Airlines and passenger aircraft manufacturers are striving to reset their respective businesses after the disruption that brought commercial air travel to a near halt in 2020.
Manufacturers are struggling to keep up with production plans and supply chain upheaval. Voluntary and enforced job losses during the pandemic resulted in an exodus of skills that continues to hamper the recovery. General labor market tightness adds to this.
Demanding though the near-term issues are, they are cast into perspective by the need to manage the environmental impact of commercial flying by curtailing damaging emissions and reducing (and one day eliminating) reliance on hydrocarbons as the basis for aviation fuel.
In addition, in Europe, at least, the industry has to manage the direct impacts of Russia's full-scale invasion of Ukraine. The specter of a wider-still war remains a risk.
In immediate practical terms, European carriers have had to change to less fuel-efficient routes to avoid Russian and Ukrainian airspace. Some regional carriers have also been hit by the necessity of routing around Belarussian airspace.
Profit Bounceback
The International Air Transport Association (IATA) projects that airlines will return to profit in 2023. Even if the sum is comparatively modest at USD9.8bn, it represents a turn-around of some magnitude from a USD140bn loss in 2020.
Profit margins, however, remain narrow. Further upheaval could push the sector into a third successive annual loss.
IATA is comparatively cautious around the near-term economic outlook for advanced economies (AEs), suggesting that growth will be around 1.3%. However, that is still optimistic compared to, say, World Bank forecasts.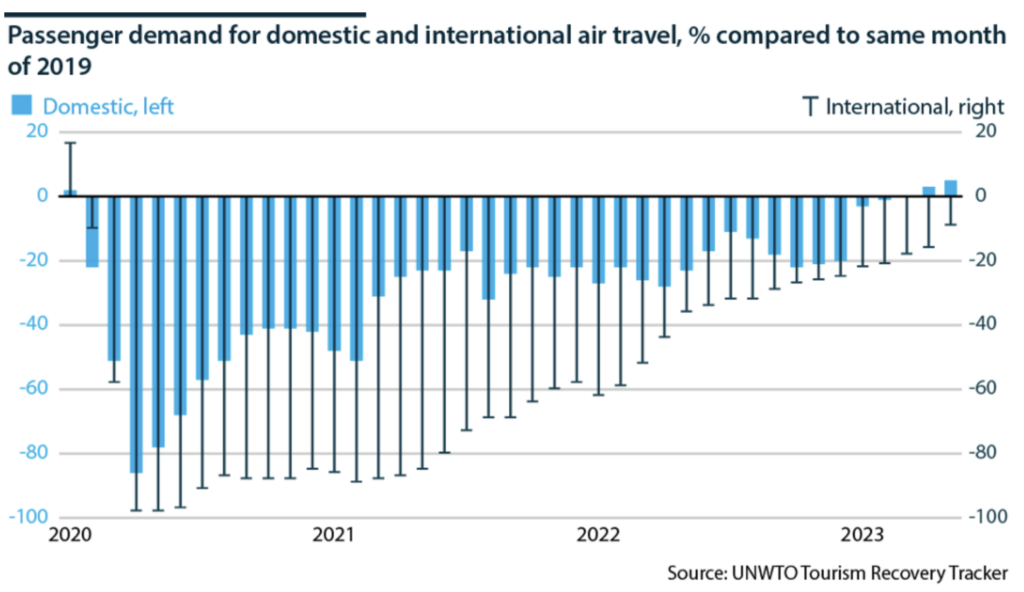 Reflecting the sector's improved economic performance, the International Airlines Group, which includes British Airways and Iberia, posted a EUR1.3bn (USD1.4bn) operating profit for the first half of 2023, compared to the EUR446mn loss in the same period of 2022. Air France-KLM's operating profit doubled to a record EUR733mn in the second quarter.
In North America, U.S. carriers collectively posted a net loss of USD1.2bn in the first quarter, compared to a USD5.1bn loss for the same period of 2022, according to the U.S. Department of Transportation.
Departmental figures showed the sector returning a pre-tax operating profit of USD7.9bn in 2022, recovering from a USD17.3bn loss in 2021.
IATA remains bullish on the long-term outlook. It sees passenger numbers doubling from today's 4 billion to 8 billion by 2040. Asia Pacific is expected to deliver around half of the increase. However, if the region's geopolitical tensions were to spill over into conflict, such projections would be void.
Other risks to the forecast include the constraining effects of changes to national and international regulations in addressing environmental concerns and changes to consumer behavior patterns.
Post-Pandemic Hiccups
Airlines have recovered to near pre-pandemic routing levels and revenue-passenger-mile growth, but the manufacturers serving them continue to struggle with pandemic after-effects. These are having a knock-on impact on the airlines.
The tight job market and many engineers retiring during the pandemic are contributing to supply chain hiccups. Engine issues, and limited availability of spare parts, have ripple effects.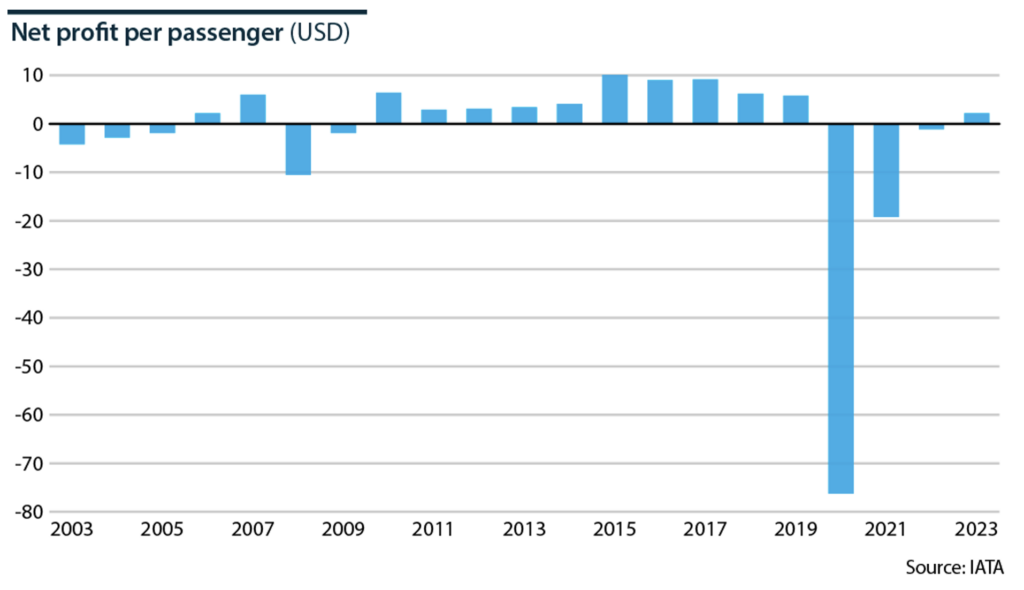 Airbus And Boeing
The two dominant firms, Airbus and Boeing, continued to improve aircraft delivery performance in the first half of 2023 compared to 2022. However, demand continues to outstrip production rates.
Both manufacturers are having to postpone some deliveries. Airbus has cautioned that A320neo handovers could slip by at least three months.
Boeing is experiencing similar problems and having to contend with longer than expected certification for two of its 737 MAX family of narrow-body aircraft: the 737-7, the smallest in the range, and the 737-10.
Delivery of the 737-7 has been deferred to 2024.
One issue for Boeing is that, as airlines work to meet demand and recapitalize fleets, they review their orders. Southwest Airlines last month converted some of its orders for the 737-7 to the already certificated 737-8.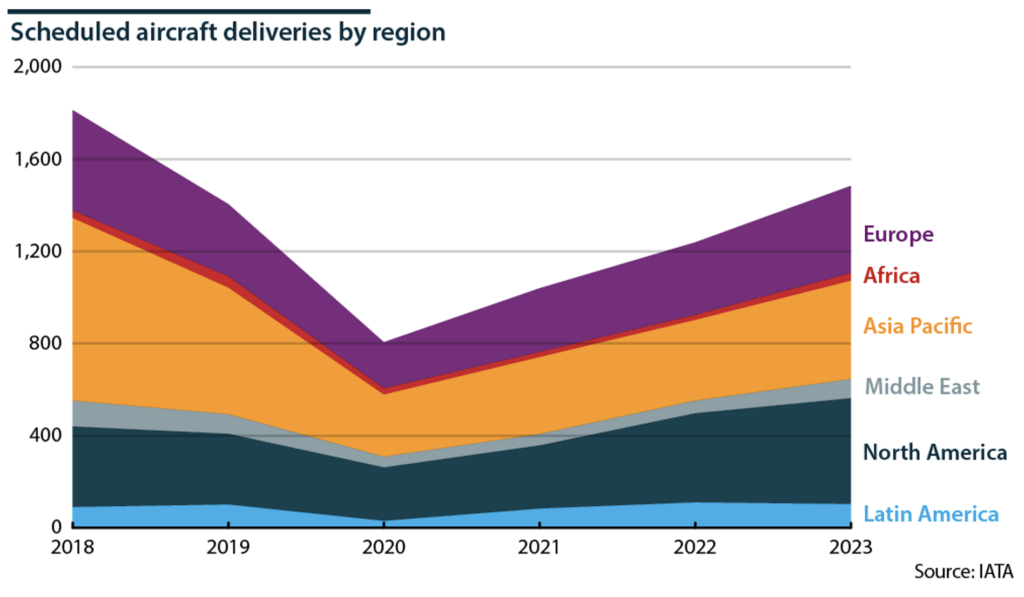 Both manufacturers are trying to ramp up narrow body production rates but are frustrated by supply chain issues.
Airbus set a target last year of producing 65 of its A320neo aircraft a month by mid-2023. This has now been revised to the end of 2024, while the target date to make 75 aircraft per month has slipped from 2025 to 2026.
Boeing aims to raise the 737 MAX monthly rate from 31 currently to 50 by 2025 or 2026, accelerating as the supply chain becomes more robust. It is reportedly now implementing an increase to 38.
The supply chain turmoil is prompting both companies to evolve their models. Airbus is integrating several sites and divisions, while Boeing plans to bring more manufacturing in-house.
Next-Gen Aircraft
Airbus and Boeing must plan how to address the successor generations of narrow-body aircraft, which will be hugely high cost and technically challenging projects.
When to launch will be as important commercially as the design. Airbus launched the 320neo in 2010, and Boeing followed in 2011 with the 737 MAX.
Airbus suggests it could have a next-generation narrow-body aircraft in the market between 2035 and 2040. Boeing has been more guarded.
Developing a new generation of narrow-body aircraft in an era of considerable change and uncertainties over whether and how civil aviation will be restricted to lessen the environmental damage from its emissions, will be a massive challenge for both.